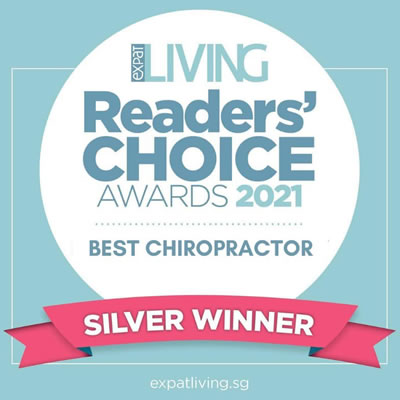 We have some exciting news to share: Genesis Chiropractic has won the Silver Award of the Expat Living Reader's Choice Awards 2021 in the category of "Best Chiropractor."
About the Awards
The public voted for who they considered to be the best businesses in Singapore. Votes were cast for an eclectic array of favourite products and services in 118 categories. These range from top hairdressers to best pet groomers to best brunches in town. These recommendations provide coveted recognition to companies who've done an excellent job, and help spread the word about them as well.
A Steadfast Commitment to Excellence
"We want to express our heartfelt appreciation to our patients for trusting us to provide exceptional chiropractic care. We will continue to deliver the highest level of care, service and skill possible," said Dr Travis Fisher.
Look for the Seal That Represents Excellence
Be sure to look out for the "Expat Living Readers' Choice Awards 2021" award seal on shop windows or company websites to spot the best in Singapore-a recognition that's based on an open and freeform voting system.
Providing Customised Care
As no two people are the same, our customised approach ensures care based in each individual's unique needs and a proven system to track progress so you get the results you deserve. From posture correction, mobility improvement, injuries or pain and headache relief, we are here to serve every age at every stage of life.
We look forward to caring for you and your family. Contact us today to schedule a convenient appointment.