Dr Brian Teo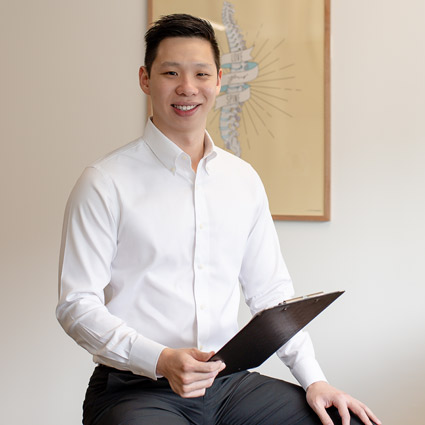 As a child, Dr Brian Teo (Masters of Chiropractic*, Macquarie Univeristy, Australia), had visited a chiropractor, but did not fully understand it or attend appointments consistently.
After leaving Singapore, I didn't have chiropractic treatment. However, as a competitive swimmer, I later suffered a shoulder injury due to overuse.
Understanding the Importance of Proper Alignment
"This was a lightbulb moment about the importance of proper alignment of the body, and how early intervention of chiropractic care may be able to help people manage or avoid such injuries."
Dr Brian realised that poor biomechanical alignment was a contributing factor for the shoulder injury he suffered. His own experience created a desire to learn more about preventative health care and led him to wanting to help others do the same.
As a chiropractor, Dr Brian is passionate about educating as many people as possible about the importance of proper alignment and how it impacts our lives as we age. He also endeavors to help those under his care to prevent injuries and inspire them to achieve their athletic goals.
For Dr Brian, it's rewarding to help people of all ages improve their daily function, allowing them to enjoy life to the fullest and reach their physical and mental goals.
Chiropractic Education
Dr Brian earned a Bachelor of Chiropractic Science and a Master of Chiropractic from Macquarie University (Sydney, Australia). He's also a member of the Gonstead Chiropractic Society of Australia.
Enjoying an Active Life
When he's not at the practice, Dr Brian is passionate about staying active. He likes to swim, work out at the gym, and take nature walks.
Coming Home to Singapore
Born in Singapore, Dr Brian moved to Abu Dhabi, UAE at the age of 11; he then moved to Muscat, Oman to complete high school, before returning to Singapore for national service. After earning his chiropractic degrees in Australia, he's delighted to be back in Singapore to serve the community with Genesis Chiropractic.
Contact Genesis Chiropractic today to book an appointment with Dr Brian!
---
Disclaimer: Doctors referenced in content, images and video are chiropractors not medical doctors or dentists.
*Masters of Chiropractic is a non medical degree
*The information contained in this website is for general information purposes only. It is not intended to replace the services of a chiropractor or a medical doctor. We disclaim all liability in respect to actions taken or not taken based on any or all the contents of this site to the fullest extent permitted by law. Do not act or refrain from acting upon this information without seeking advice from an appropriately qualified professional.


Dr Brian Teo | 9810 9909